Vendor Stands
Salads
Millwood Salads
Phone: 410.573.0775

All kinds of fresh homemade salads are available here. Buy a small portion to eat on the spot, or order a larger portion to take home for the family meal. Potato salad, pasta salads, bean salads, relishes; you name it and we probably have it. All prepared, of course, using a homemade, PA Dutch recipe. Some of there salads are from recipes that have been handed down through the Amish for generations.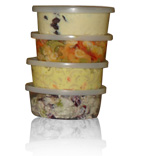 Looking for something to take home as a quick meal? Try our selection of already prepared casseroles and hot-dishes. Take a few of these home, pop them in the oven to heat up, and then serve. Your family & friends will think that you are the best cook on the bay!
What about a fresh deli sandwich or sub? Try one of ours, made from fresh ingredients in the way that you like. Grab one on your way out for the perfect 'on-the-go' lunch.