Vendor Stands
Fresh Produce
Stoltzfus Produce
Phone: 410.573.0649

At Stoltzfus Produce, we feature a large line of fresh, quality fruits and vegetables. This produce is handled with the finest care.
Try some fresh tomatoes for your sandwiches and salads. How about some corn-on-the-cob? Looking for a watermelon for that summer picnic? You can shop here for all your produce needs.
At Christmas time we also have fresh fruit baskets, which make a great gifts for those special people in your life.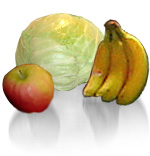 While at the stand, try some of our signature fresh squeezed orange juice. This juice cannot get any fresher. It is squeezed and bottled on the spot, and immediately put on the shelf for you to buy. This juice is 100% pure, with all the pulp still in it, carrying that 'home-squeezed taste'. Try some immediately as a refreshing and healthy drink, or buy some to take home for breakfast. Or, try our fresh lemonade, made just like Grandma used to make it. This makes the perfect drink for a hot day.
Fresh Quality Fruits & Vegetables
Fresh Home-Squeezed Orange Juice