Vendor Stands
BBQ
E & S BBQ & Fresh Poultry
Phone: 410.573.0772

Our barbequed chickens are basted in our own home-made sauce and baked to perfection. Buy one whole and take it home for the family meal. Or, if you are looking for something immediate, pick-up a barbeque chicken take-out meal.
Do you prefer fried chicken? Order one of the various 2 – 5 piece fried chicken meals. Fried chicken is available in bucket size, too. Take as many pieces as you would like, in any variety. Wings, legs, thighs, breast….? This is perfect for a party, or a family reunion. Call ahead, and we will have your order ready when you arrive. No order is too large, but we recommend that you call ahead for large orders (35+ pieces).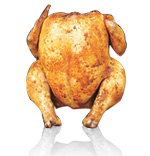 We also have chicken tenders and, and other various baked and fried poultry. Combine any of this with our fried potato wedges or coleslaw, and homemade rolls, and you will have a delicious meal.
Don't forget to try our smoked pork ribs, smoked to perfection right here at the stand. Try these with our delicious sauce, and you will definitely come back for more.
We also have a full line of fresh chicken and turkey. Specialty poultries, such as duck, goose, and etc. are available upon advance order.
Looking for something to take home for dinner? Try our homemade chicken soup and chicken pies, or fresh home-stuffed chicken breasts and cordons. Any of these will make a delicious meal.